I'm honored to be invited to participate in the Writer's World Blog Tour by my writer friend, Amanda Dykes. In this tour we get to highlight the awesome author who posted before us (and was kind enough to invite us into this fun loop), answer a few questions about our own writing, then point you to the next author in the tour. How fun is that?
Here's a little about Amanda (be sure to check out her post in this Writer's World Blog Tour).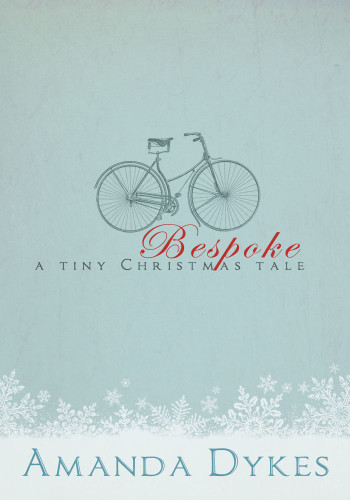 Amanda Dykes is a drinker of tea, a dweller of Truth, and a spinner of tales. She grew up just down the mountain from Lake Tahoe, a lake that holds a special place in her heart. It's here that she now enjoys setting her historical fiction. She is a Novel Crossing contributor, co-founder of the Christian Fiction Book Club, but most of all, she's just a girl redeemed, grateful for the gift of story, the hearts of those who read it, and the God whose love changed everything. Join her in the writing of the short story Bespoke, and the chance to use your own memories to give a bicycle to a missionary across the world at www.AmandaDykes.com/Bespoke.
Amanda's post
went up last week on her blog and it was a lot of fun!
On this blog tour, writers answer the same 4 questions then introduce another writer who will do the same on their blog post the following week. Be sure to find out who I chose to come after me at the end of this post.
So here we go.
What are you working on?
I have two closely related projects going right now. I'm currently in the editing stages with
The Wood's Edge
, my next 18th century historical novel, which will release April 21, 2015 (WaterBrook Press).
My second project is the sequel to
The Wood's Edge
. I'm still writing the first draft of this one, in between the edits for
The Wood's Edge
, but my goal is to have a first draft finished by the end of October, which will leave me another two and a half months to edit, polish, rewrite, and otherwise make it presentable for its deadline in January 2015.
Both of these books, comprising The Pathfinders series, are set in the Mohawk Valley of New York. The series spans twenty years, 1757-1777. Readers of
Burning Sky
will recognize at least a couple of characters they first met in that book.
Edited to add: I'll have a special reveal about
The Wood's Edge
a little later this week. :-)
How does your work differ from others in its genre?
My taste in reading (and writing) tends toward male protagonists, close-to-the-earth historical settings, peril, and adventure, a lot of which can be found in the general market. But there's a romantic in me too (one who has no use for graphic sex scenes), so I read widely in the Inspirational/Christian market, especially historical romances that contain a deeply engaging spiritual thread. I try to blend all of those elements--history, gritty adventure, romance, and spiritual awakening--into my books.
Why do you write what you do?
Short answer: because characters keep talking to me! Long answer: What continues to excite my imagination as writer of historical fiction is something historians call the Middle Ground. It's that shifting, redefining space where two cultures meet, often with a clash of ignorance and intolerance. But other times in a remarkable attempt at understanding, with a hand extended in trade, or in friendship. It's the testing of a character through physical adventure and peril, but also through an honest exposure to a way of life they've maybe held preconceived notions about, that keeps drawing me back to write stories set on the 18th century frontier. I want to see the Middle Ground experience reflected in the inner landscape of a character that chooses to cross that line, or is forced to do so by circumstance. I want to experience this through the eyes of a character who thinks like a person born to that time and place, while at the same time finding in them a common humanity, a place of connection from which to experience a slice of history.
How does your writing process work?
It's fun to read about how other writers get the job done, but in the end
each writer has to work out their own writing process
over trial and time. Here's a bit about mine:
Most writers will tell you the creative process is far too organic (and mysterious) to break down into steps. It's not always possible to pinpoint the moment a story kernel or seed is planted, so I'm going to skip to the part where I have that kernel, whether it's a character, an opening situation, or a conflict I'd like to explore (plus the historical time period or event I'm going to play it against). I need to have a clear idea of where a story is going before I can begin it, because the plot often hinges on historical events; I need to know the story arc I have planned for the characters works inside the framework of the historical record.
In the beginning stages of working out this balance of plot and history, before the writing begins, the story will start pouring forth. During this stage I'm scrawling notes on every scrap of paper I can find wherever I happen to be, in the car, at church, in the grocery store, making dinner, trying to fall asleep, and I'm wishing that my personal Super Power was the ability to translate my thoughts straight into the computer and bypass the whole writing down or typing steps.
In other words, I'm Cooking the Book. Wish I could claim that phrase. I got it from author
Julia Monroe Martin
.
So, I'm madly getting down ideas for story and character in a rough outline form during that stage, however long that mad outpouring lasts, even if I'm not exactly sure of how one bit flows into the next. In fact I don't want to know it all. I want to leave room for surprises to happen on any given writing day, weeks and months down the road. That's part of the fun. But I do need a road map, for my own sanity.
With every novel I write I spend a lot of time thinking about the characters, their back story, what their goals are and how they will be tested, how they will grow, before I begin writing. It's as if I'm mentally circling them, observing, listening, questioning, and furiously jotting down what they reveal about themselves. It might come in waves, or trickles, scattered over weeks or months, but spending as much time at that as I can before I begin writing makes for less floundering around and trying to nail that stuff down later, when thousands of words have been expended and need to be heavily revised.
Still, no matter how much planning I do there's nothing better than putting characters into a scene, letting them confront a challenge or setback, seeing their personalities emerge. Once I start the first draft it's still an organic process, part intentional construction as I apply what I learned during that mental circling, and maintaining the flexibility to explore surprises when they happen on the page. It doesn't all get done in the first draft. I continue refining those characters through many passes over every scene, right up to the three main edits that take place once the book passes into my publisher's hands and is handed back off to me.
Tinkering, or fiddling, best describes how I work. I'll write a few sentences, go back and play with them for a bit, rearrange the phrases, the sentence length, the word choice. Add some. Delete some. Write a bit more. By the time I've completed a 1500 word scene I'll likely have been over it five or six times, it's the end of the work day, and I'm exhausted.
But I don't stop there. Most of the scenes that exist in published form have been edited several dozen times.
And there you have it.
Thanks to the lovely Amanda Dykes for inviting me along on this tour!
Next week I pass the baton to author Ann Shorey, who will answer these questions for readers on Sept 1. I've known Ann for many years and along with being a wonderful writer and storyteller, she's also an encouraging friend. You'll find Ann's post for The Writer's World Blog Tour next week on her website:
http://annshorey.blogspot.com/
ANN SHOREY has been a story collector for most of her life, and has been a full-time writer for over twenty years. She has published selections in
Chicken Soup for the Grandma's Soul
, and in the Adams Media
Cup of Comfort
series. She made her fiction debut with
The Edge of Light
, Book One in the At Home in Beldon Grove series. Her latest, the Sisters at Heart series, released in 2012, with
Where Wildflowers Bloom
. The third book in that series,
Love's Sweet Beginning
, released earlier this year. 2014 also saw her debut as a novella author in the Sincerely Yours collection for Revell.
When she's not writing, she teaches classes on historical research, synopses, and other fiction fundamentals at regional conferences. She lives with her husband in southern Oregon.