Paper Dolls? Yes, indeed.
I have no memory of playing with paper dolls as a child. If I did, they weren't a large part of my childhood. But I collect them now. A very specific type of paper doll that serves as a historical resource for the time periods I write about.
I'm referring to the historical fashion plate paper dolls by gifted illustrators like Tom Tierney. Just take a look at these covers and titles:
These beautiful, simple illustrations are a wonderful basis for establishing what styles fictional characters should be wearing in various times and places during the 18th century. The books are arranged in large, colorful, numbered plates, each one described in detail and given historical context at the back of the book, so that you can cut out these outfits and used them as paper dolls were meant to be used. Or not.
So far I've kept all my books intact and simply leaf through them from time to time for inspiration.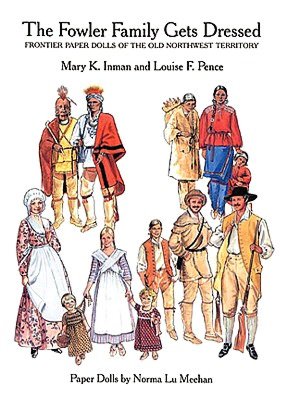 Pictured at right is my newest acquisition, and easily my favorite. The Fowler Family Gets Dressed: Frontier Paper Dolls of the Old Northwest Territory, by Mary K. Inman and Louise F. Pence. Included in this book are an extensive glossary, bibliography, maps, and historical notes.
Paper doll books aren't limited to early American fashions. Is the Medieval Era more your cup of mead? Byzantine? Arthurian?
So what do you think? Have you ever used paper dolls as a fiction writing reference? If not, have I convinced you that they're a fun historical fashion resource?