The annual Christy Awards, given for excellence in Christian fiction, were announced last night. Here's the list of the 2011 winners in each category. Congratulations winners!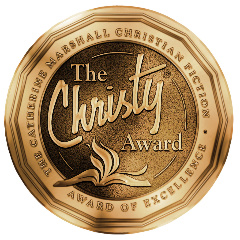 Contemporary Romance
Sworn to Protect
DiAnn Mills (Tyndale House Publishers)
Contemporary Series
The Reluctant Prophet
Nancy Rue (David C. Cook)
First Novel
Heartless
Anne Elisabeth Stengl (Bethany House Publishers)
Historical
While We're Far Apart
Lynn Austin (Bethany House Publishers)
Historical Romance
The Girl in the Gatehouse
Julie Klassen (Bethany House Publishers)
Suspense
The Bishop
Steven James (Revell Books)
Visionary
To Darkness Fled
Jill Williamson (Marcher Lord Press)
Young Adult
Motorcycles, Sushi, and One Strange Book
Nancy Rue (Zondervan)
And the one I saved for last, because out of all the winners, this one's cover utterly captivated me before I had an inkling what the story was about. This is one of the most beautiful covers I've seen lately, and I will have my hands on a copy of this book by the end of this day.
Contemporary Standalone
Almost Heaven
Chris Fabry (Tyndale House Publishers)

And in case this cover has captivated you as much as it has me, here's the back cover blurb:
Some people say Billy Allman has a heart of gold. Others say he's a bit odd. The truth is, they're all right. He's a hillbilly genius…a collector, a radio whiz…and he can make the mandolin sing. Though he dreams of making an impact on the world beyond the hills and hollers of Dogwood, West Virginia, things just always seem to go wrong.
But however insignificant Billy's life seems, it has not gone unnoticed. Malachi is an angel sent to observe and protect Billy. Though it's not his dream assignment, Malachi always follows orders. And as Billy's story unfolds, Malachi slowly begins to see the bigger picture…that each step Billy takes is a note added to a beautiful song that will forever change the lives of those who hear it.
PS: Still technically on blogging sabbatical, but when there's something to share, I'll share!