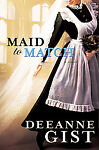 Maid to Match
by Deeanne Gist
Bethany House Publishers
2010
From the back cover:
Falling in Love Could Cost Her Everything.

From the day she arrives at the Biltmore, Tillie Reese is dazzled--by the riches of the Vanderbilts and by Mack Danvers, a mountain man turned footman. When Tillie is enlisted to help tame Mack's rugged behavior by tutoring him in proper servant etiquette, the resulting sparks threaten Tillie's efforts to be chosen as Edith Vanderbilt's lady's maid. After all, the one rule of the house is no romance below stairs.

But the stakes rise even higher when Mack and Tillie become entangled in a cover-up at the town orphanage. They could both lose their jobs, their aspirations... and their hearts.
I read Gist's first book,
A Bride Most Begrudging
, years ago and enjoyed it, but this book's setting drew me in first and foremost. I'm a sucker for anything set in the Appalachians. If it's the Blue Ridge of North Carolina, all the better. Historical? Well, that's just about perfect. Add in the fact that a.) Gist's hero, Mack Danvers, is a tall, rugged, fiery-tempered mountain man, with a strong sense of justice and responsibility that compels him to defend those weaker than he, and b.) is possessed of a smoldering physical presence that Tillie couldn't possibly overlook, though Mack's the identical twin to a footman she already works with and isn't the least attracted to*--and it makes for a very compelling hero.
From the moment Tillie first sees Mack, engaged in a brawl with a townsman (who deserved far worse comeuppance than he ever got), there was only one face I could put on him.
This one
(who played a well known character also introduced to the viewer in the midst of... you guessed it...a fist-fight).
*I found the contrast between the brothers, and Tillie's response to them, an interesting angle to explore. Though they look enough alike that they're sometimes confused for each other, Mack and his brother, Earl, are very different men. This served to make Tillie's attraction to Mack come across as far deeper than the physical, since his brother Earl is every bit as handsome. The romance between these two made sparks fly off the pages, which you don't always find in CBA romances.
I've never visited the
Biltmore Estate
, near Ashville, NC, but
Maid To Match
has made me want to. An aspect of this story I greatly enjoyed (being a fan of the recent British drama
Downton Abbey
) is a look inside the lives of the large servant staff of an American mansion at the turn of the 20th century, and the differences between them and their British counterparts.
Some of the services Tillie had to perform for a certain rich visitor to the estate, as a trial run for a lady's maid position, were so revolting and the treatment she received so humiliating, at first I wondered why Tillie would still want to pursue this goal after such an experience, especially when she has another offer on the table that seems overwhelmingly appealing (to me!). Gist provided enough sound motivation for Tillie to believe this is the path she needs to pursue, no matter the cost, and to make
me
believe she could believe it, as well as showing just how good Tillie would be at the job; patient and hard-working and humble, in contrast to the experience of her rival for the ultimate lady's maid position, Lucy.
Another plot line I found engaging was that of the children in the orphanage in the town of Asheville. It was wonderfully and sometimes heartbreakingly utilized through the story to bring Mack and Tillie together... as well as keep them apart. Mack's character, in particular, is allowed to blossom through the use of this orphanage setting and the plight of the children therein.
As a writer I found myself rereading phrases throughout the book, wishing I'd written them. As a reader, this is the first book I've read in quite some time that I didn't want to put down. Yet it was more than a page-turner. Watching Tillie and Mack struggle to hear God's voice, to find the setting and role where their dreams could be realized, their gifts and talents used, and the yearnings of their hearts be fulfilled, was a pleasure. While the ending was predictable, the journey to their fulfillment was well worth it and I hated to see the story end, to say good-bye to Tillie and Mack. I would have gladly read on through their lives, since their company was a great joy. Which is, in my opinion, the final litmus test of a good book.