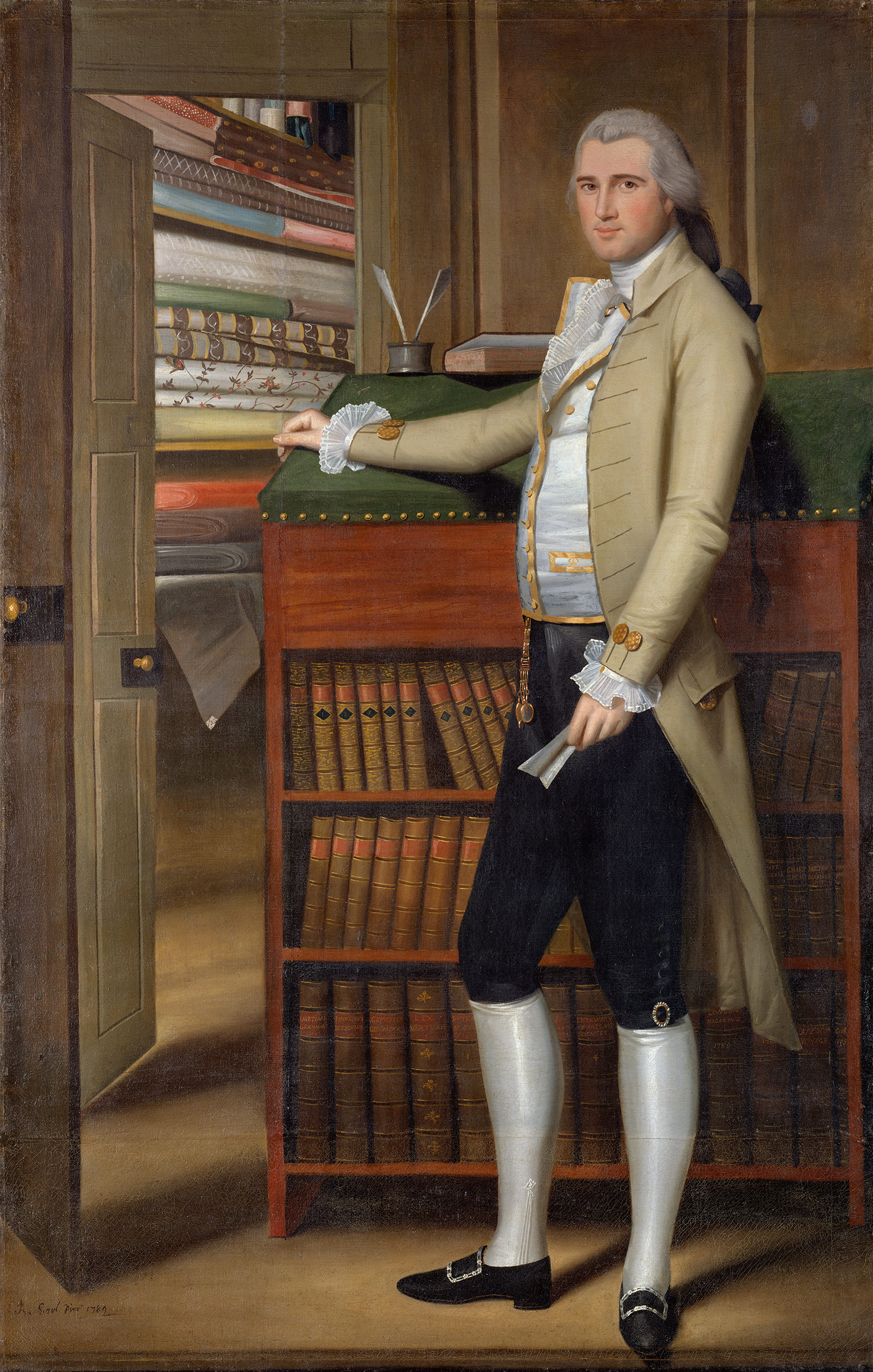 "Elijah Boardman, 1789" by Ralph Earl
My characters, as it turns out, are readers. I didn't anticipate that development when I began writing
Kindred
in 2004. I couldn't have told you on that rainy April day what year the Revolutionary War ended, much less what literature was being published and read during those final decades of the 18th century.
Quite a learning curve I set for myself.
Over the course of writing two (so far) novels set in the Federal era of American History, I've had the fun of researching what books my characters might have kept tucked under their pillows for a bit of late night candlelit reading, or gathering dust on their bookshelves as symbols of their comparative wealth.
In
Kindred
there's Ian Cameron, son of a Boston bookbinder, who collects books on cabinetmaking designs such as
Chippendale's Directory
. And Thomas, a free black man from Boston who finds the course of his life irrevocably altered by the published slave narrative of Olaudo Equiano. And Judith, the true bookworm of that story, who is partial to the novels of the day like Daniel Defoe's
Robinson Crusoe
and Jonathan Swift's
Gulliver's Travels
, and the poems of "
that young Lowlander, Burns
".
Even in his uncle's room the trappings of former wealth were evident. Fine hangings on the high-post bed, a rich turkey carpet spanning the pinewood floor, and the Hepplewhite desk at which Ian sat, with its triple finials and glass-paneled bookcase, gave the illusion of increased income.

Ian opened the case above the desk to visually caress the wealth—Defoe, Swift, Johnson, Locke, Boswell, Smollet and Fielding. A collection of poems by that young Lowlander, Burns. Outdated copies of Franklin's Almanack. Most were bound in leather, some worked in gilt. A familiar spine caught his eye, a book of Norse legends he'd read as a lad. Ian tugged it free. Inside was an inscription in his father's hand:


1767. Inverness. My first Bound Book.
"Hugin and Munin fly each day the wide earth over. I fear for Hugin lest he fare not back—yet I watch the more for Munin."
As we fly the earth over, Brother… Think and Remember.

The book, twin to one his parents owned, bore early evidence of Robert Cameron's distinctive tooled style. Ian brought it to his nose, smelled the aging leather, and for an instant was back in his father's shop in Boston.
~from Kindred, Copyright 2011 Lori Benton All Rights Reserved
In
The Quiet in the Land
there is Neil MacGregor, graduate of Edinburgh University, trained physician, and botanist. He's partial to the more scientific works of naturalists such as Carolus Linnaeus and John and William Bartram. And there's Willa Obenchain, daughter of a frontiersman and a lover of the popular epistolary novels of Sir Samuel Richardson's
Pamela: Or Virtue Rewarded
and
Clarissa: Or a History of a Young Lady
, books her grandmother maintains lead only to slothfulness, so she's forced to hide them and read them on the sly.
It's too early to tell with
Jesse
, one of the new frontier novels I've begun planning, whether or not the characters will have access to books, much less be readers, but chances are they will be.
In
Over Jordan
, the second novel I've begun, an early chapter opens in a book shop where a character is enthusing over the poetry of Philip Freneau, an American poet know for his anti-British writing during the Revolutionary War (before and after his six-week stint as a prisoner on a British prison ship). Important to my character are his poems about Native Americans. Freneau is considered something of a transitional writer, the images, tone and themes of his work anticipating the "romantic primitivism" of writers such as James Fenimore Cooper and Ralph Waldo Emerson in the early 19th century. He was perfect for the scene in which I placed his work, which helps foreshadow much of what that particular character will experience as her story unfolds.
We're all affected by what we read. That held true in the 18th century as well as the 21st. Showing this in my stories has helped bring my characters to life, whether it's social, moral or political commentary, business and scientific journals, or poetry that most engages them. But I have to say the one development in the field of 18th century literature for which
I
am most thankful is the "rise of increasingly realistic fictions" (Wiki).
In other words,
novels
.
photo credits: stacked books, Lin Pernille Photography (flickr); shelved books, guldfisken (flickr)