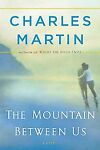 I'm in love with another writer. At least with his writing. Or maybe it's his character, Ben Payne. I haven't sorted it out yet, much like I haven't sorted out the tears I cried when I finished reading Charles Martin's
The Mountain Between Us
, about 48 hours ago. Let me share what the jacket blurb has to say:
On a stormy winter night, two strangers wait for a flight at the Salt Lake City airport. Ashley Knox is an attractive, successful writer who is flying east for her much anticipated wedding. Dr. Ben Payne has just wrapped up a medical conference and is also eager to get back east for a slate of surgeries he has scheduled for the following day. When the last outgoing flight is canceled due to a broken deicer and a forthcoming storm, Ben finds a charter plane that can take him around the storm and drop him in Denver to catch a connection. And when the pilot says the single-engine prop plane can fit one more, if barely, Ben offers the seat to Ashley, knowing that she needs to get back just as urgently. And then the unthinkable happens. The pilot has a heart attack mid-flight, and the plane crashes into the High Uintas Wilderness--one of the largest stretches of harsh and remote land in the United States.
Ben has broken ribs, and Ashley suffers a terrible leg fracture. Along with the pilot's dog, they are faced with an incredibly harrowing battle to survive. Fortunately, Ben is a medical professional and avid climber (and luckily, has his gear from a climb he made earlier in the week). With little hope for rescue, he must nurse Ashley back to health and figure out how they are going to get off the mountain, where the temperature hovers in the teens. Meanwhile, Ashley soon realizes that the very private Ben has some serious emotional wounds to heal. He explains to Ashley that he is separated from his beloved wife, but in a long-standing tradition, he faithfully records messages for her on his voice recorder, reflecting on their love affair. As Ashley eavesdrops on Ben's tender words to his estranged wife, she begins to fear that when it comes to her own love story, she's just settling. And what's more, she begins to realize that the man she is really attracted to, the man she may love, is Ben.
As the days on the mountains become weeks, their survival becomes increasingly perilous. How will they make it out of the wilderness, and if they do, how will this experience change them forever?
Mountain
is my first Charles Martin book, and I feel a little like I was set down in an unexpected place and changed forever as well. Not since I read Louis L'Amour's
Last of the Breed
have I been swept up in such a thrilling and visceral wilderness survival tale, yet
Mountain
is so much more than that. It's also a love story, and the story of a marriage, a portrait of transforming love, hope, and faith. It's a story of healing, and of a somewhat jaded soul being open to the conviction that there is more to loving another human being than she thought was possible.
More than just a story of a marriage, it is a story
of
marriage. What does a marriage look like? What could it grow to be? Can it get better with time? As someone who just celebrated her 23rd wedding anniversary, I found the answers to those questions utterly satisfying. And encouraging. Even a bit convicting.
The story kept me guessing and surprised me until the very end, engaging me completely to root for Ben and Ashley (two people I'd love to have as friends in my real life, for their courage, their humor, their strength, and their loyalty) not only to survive their harrowing journey out of the wilderness, but to break through the barriers keeping one of them in a place of brokenness and guilt, the other in a place of hope deferred, willing to settle for second-best. As Martin says on his website:
"Most, if not all, of my stories, follow the arc of a character from a real bad place of being broken to a place of not broken. If you ask me 'what fires me up as a writer,' it's that. That arc. From messed up to maybe not so messed up. Why? Because at the other end is hope."
Hope is an essential quality for a novel if I'm going to enjoy it, or recommend it.
Mountain
has it in spades. Charles Martin's insight into the human heart, as well as his prose, are breathtakingly beautiful. I'd have read
Mountain
for the clean, spare, yet lyrical strength of the writing alone, which is evident from the first page of the Prelude, but to have that, and such a gripping tale,
and
characters that are as vibrant and living as the folk I know (maybe even more so), is a literary gift. Thank you, Charles Martin.
I can't stop thinking about the characters and their story arcs, even though I've already started another of Martin's books,
When Crickets Cry
, which has me hooked just as firmly--a hook set gently before the first hard tug on the line came. I'm so happy to still have all his other books to read.
Charles Martin's website:
http://charlesmartinbooks.com/
Read the Prelude and first chapter of
The Mountain Between Us
:
http://charlesmartinbooks.com/books/the_mountain_between_us/